Available Boxing Workouts
The Shadow Boxing App has many different modes, workouts and exercises to pick from, and we are adding new ones all the time. They range from freestyle work to punching bag exercises, but also virtual pad work or footwork drills. There really is something for every type of boxer. The best way to discover them is to download the app, but here is a preview!
Pick from many workouts
from HIIT to freestyle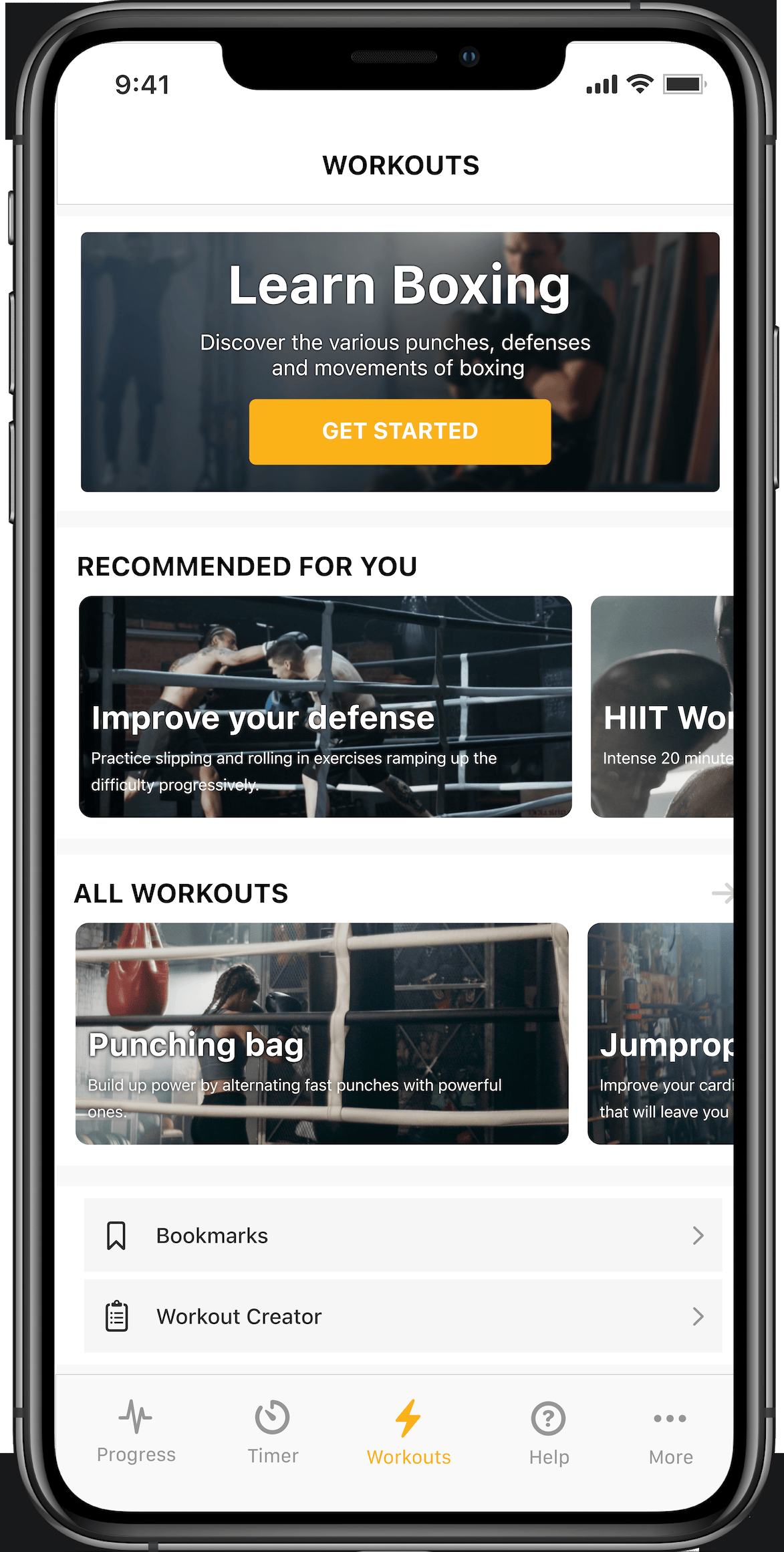 Follow audio cues
just like doing virtual pad work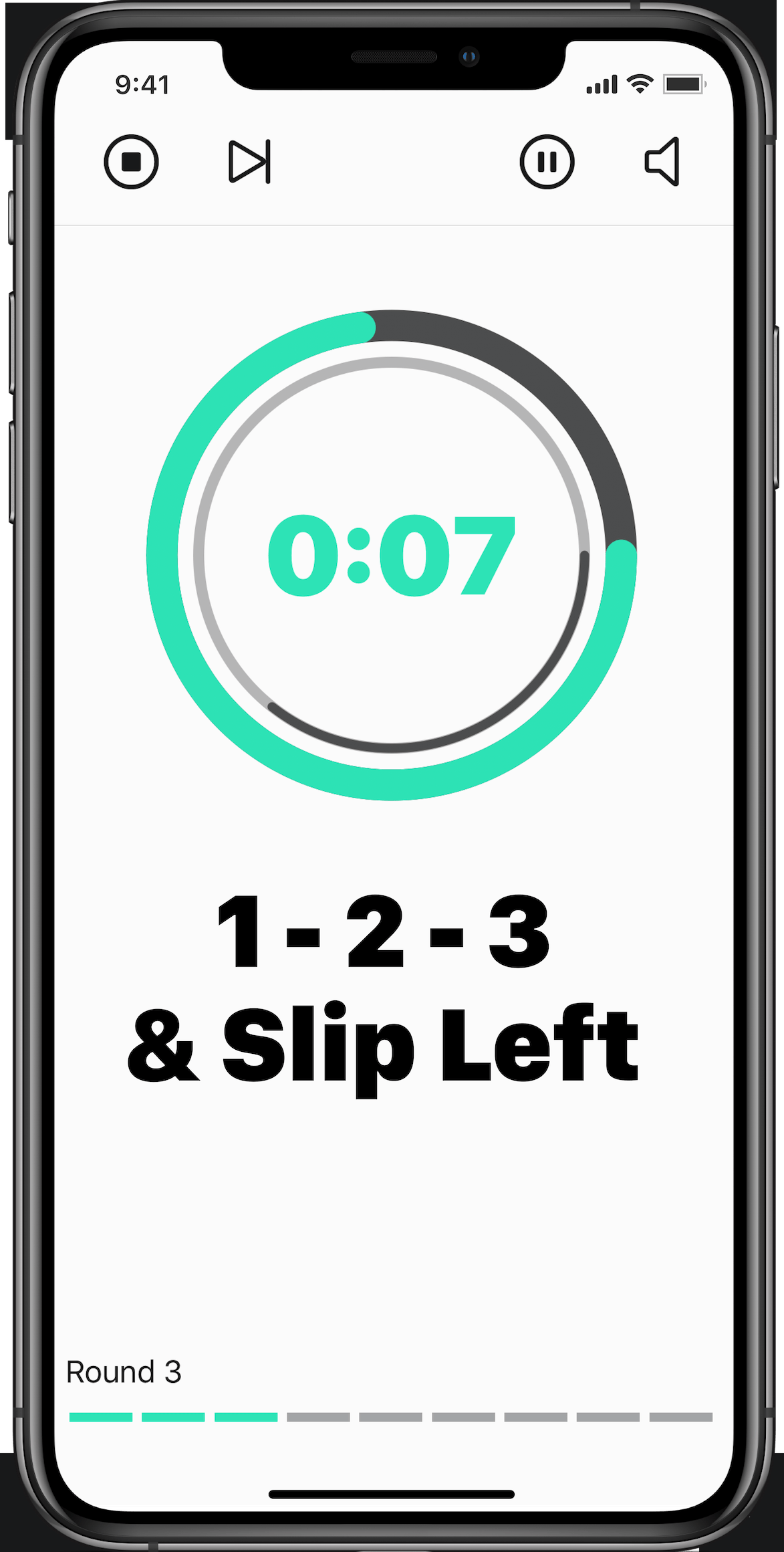 Entirely customizable
set the exercises, the intensity...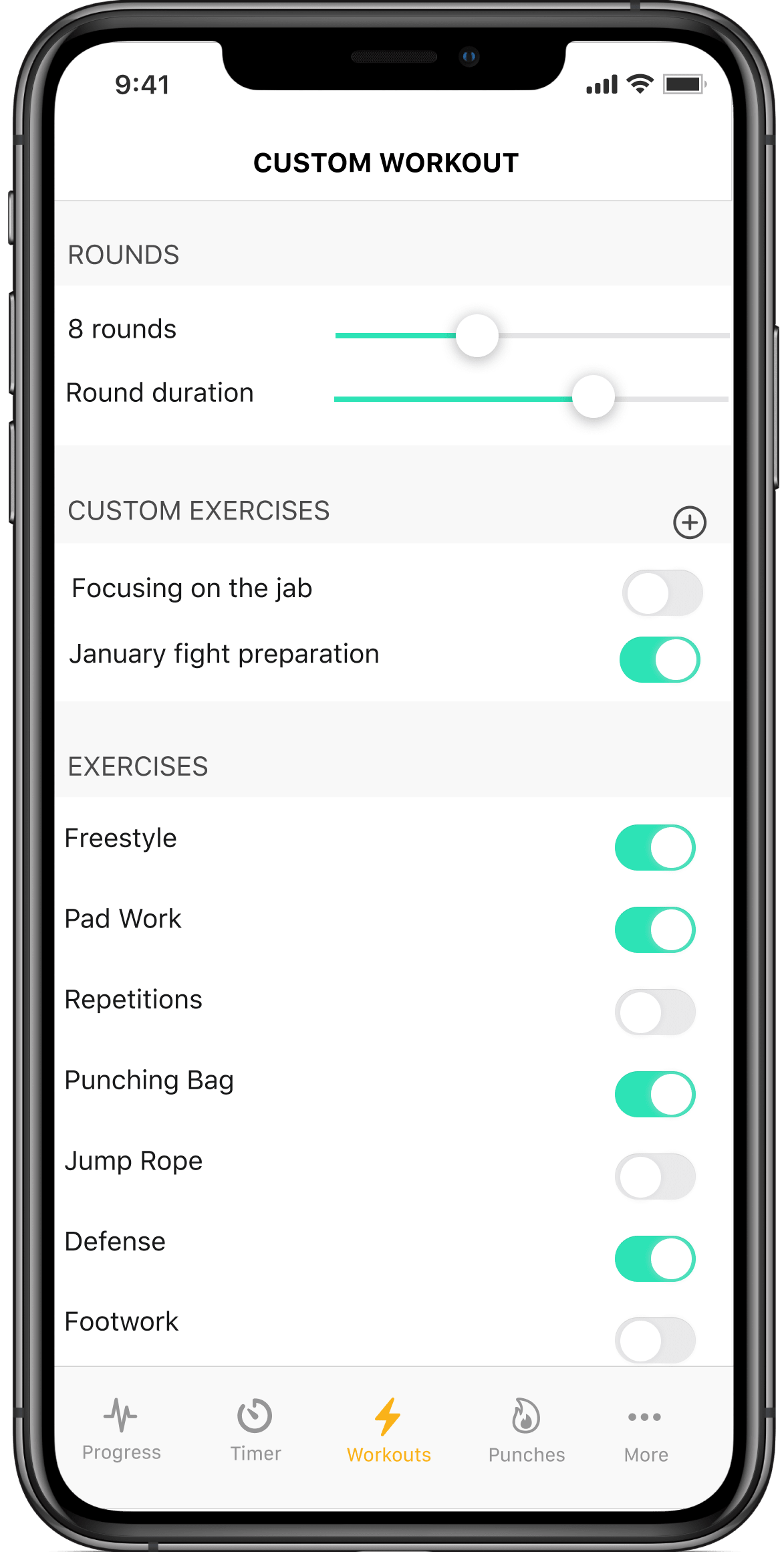 Boxing workouts available in the iOS app
FREESTYLE
Box for 6 rounds of 3 minutes with a coach giving you audio directions
JUMPROPE
30 minutes workout with simple jumprope exercices
20 MINUTES HIIT
High intensity training to build explosive power and increase stamina
10 ROUNDS
Guided exercices and freestyle for 10 rounds of 3 minutes
CUSTOM WORKOUT
Define all the components of your training
REPETITIONS
Practice a single combo for the entire duration of a round
SLOW PACE
Slower pace training for when you are getting back in shape
VIRTUAL PAD WORK
Simple combos to execute when called as well as some freestyle
INSANITY
Warm up and get ready for 25 minutes of non-stop action
30 MINUTES HIIT
Alternate explosive exercises with short dynamic resting periods
QUIET TRAINING
For those preferring when the coach only give minimum directions
PUNCHING BAG
Work on the bag with various exercises & some freestyle
QUICK START
Find a workout that works for you or learn the basics of boxing
ALL EXERCISES
Intense training where you go through all the exercises available
PUSHUPS
Quickly alternate between freestyle and pushups
DEFENSE
Work on dodging incoming attacks and countering
7 MINUTES CHALLENGE
Follow commands and get your heart pumping even without much time
SQUATS
Work on your lower body with squats and freestyle exercises
DODGE
Focus on reaction speed. It's simple, just don't get hit!
TUTORIAL
Learn the basis of boxing & how to use the app
PUNCHING BAG REPETITIONS
Repeat combos on the bag with little rest
SIMPLE COMBOS
Train with simple combos getting progressively more difficult
GIVING IT A TRY
Curious and want to check out what a workout looks like in 5 minutes?
FOOTWORK
Tighten your shoes and get ready to move
COUNTER PUNCHING
Start with a defensive action and retaliate New in 1.21!
DEFENSIVE CALLOUTS
Pad work routine focused on dodging and counters
FREESTYLE BAG WORK
Loosely guided punching bag exercises
CARDIO
Jump rope, squats & punches
BODY SHOTS
Mix up your game by also attacking the body
CRUNCHES
Work on your abs with crunches and some basic boxing exercices
STRENGTH TRAINING
Improve your performances by working on the basics
PUNCHING BAG (SPEED)
Alternate constant punches with fast and precise combos.
PUNCHING BAG ROUNDS
Try to survive intense full rounds on the bag
PUNCHING BAG HIIT
Intense punching bag exercices & squats
CIRCUIT TRAINING
Quickly go through a lot of different exercises
That's a lot!
It might seem like a lot of available options... because it's the case! However don't worry, you can take it one step at a time and learn how to use our boxing app one step at a time. You can trust our thousands of users' reviews on the app store and download the app today to see for yourself how it works!
Mirror mode
record yourself boxing & improve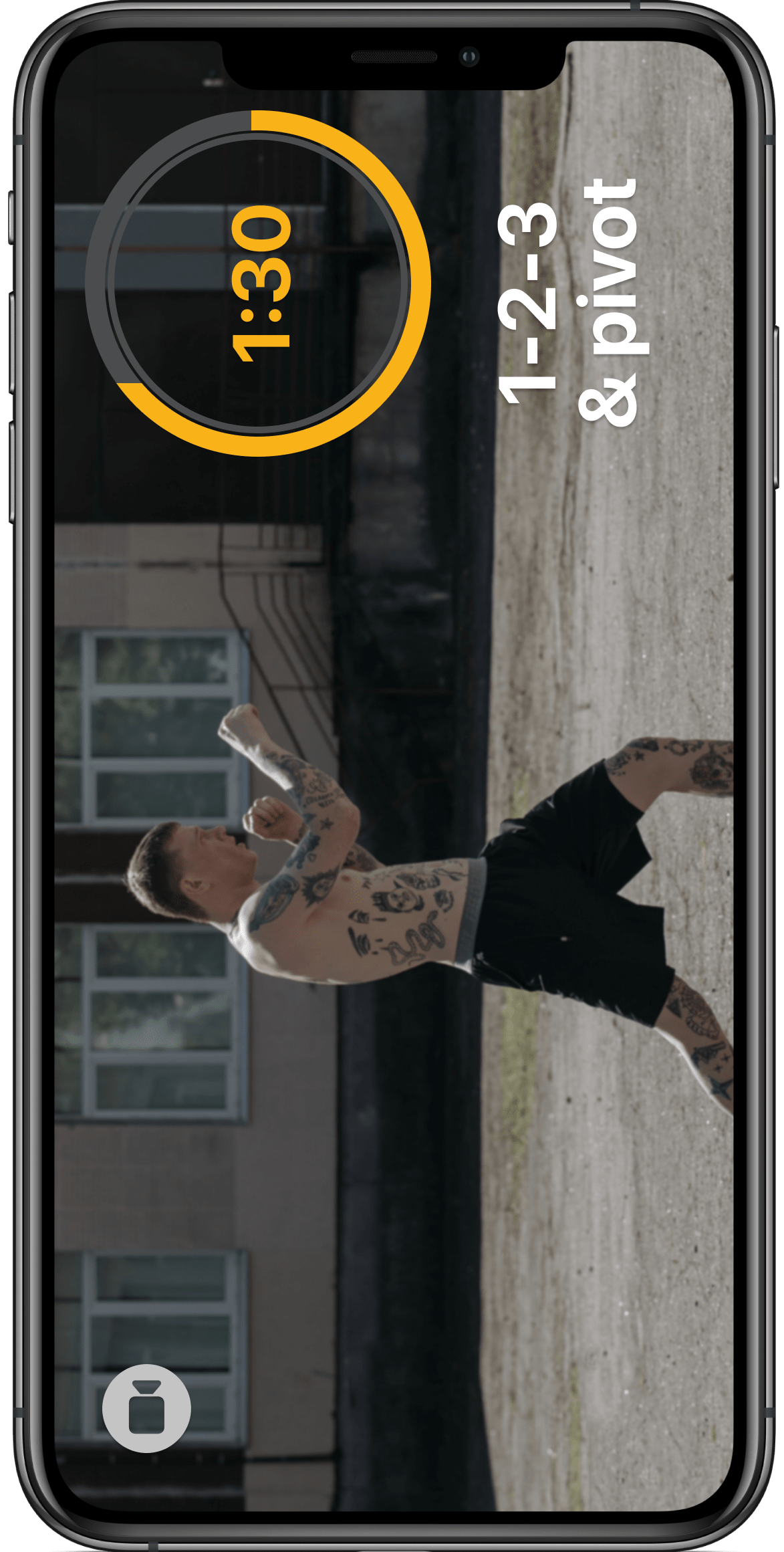 Free round timer
efficient and without ads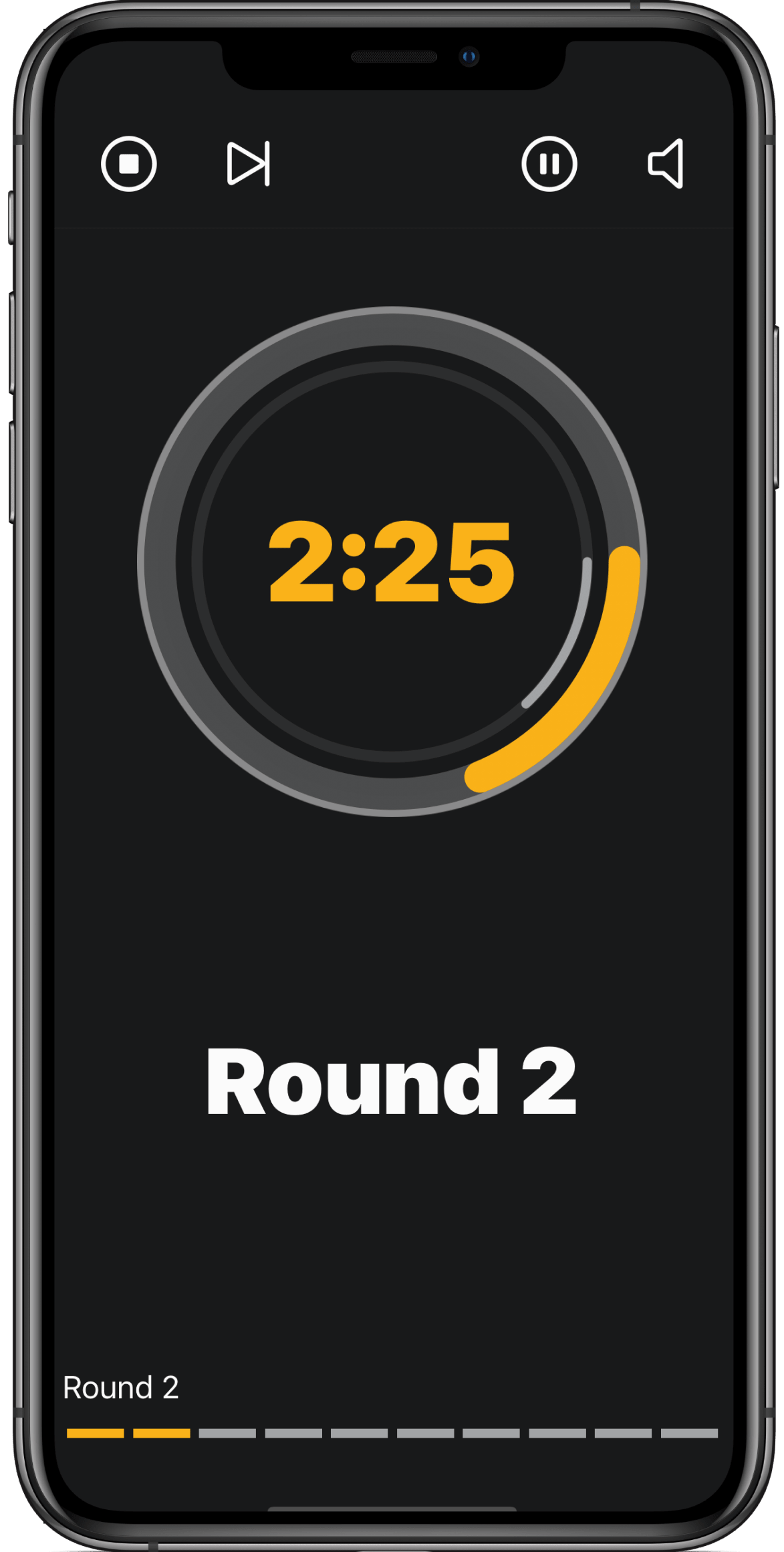 Statistics
track trainings, stay motivated